I have a huge family! My mom has numerous cousins on both sides of her family, and my dad has tons of friends that might as well be family. Our holiday season always started the week before Thanksgiving, and ended the week after the First of the New Year.
Depending on how the calendar falls, that can result in 8-10 weeks of festivities and several holiday meals, and lots of turkey and ham. To be frank, sometimes the traditional options are the most boring ones. With Thanksgiving a week away, and thus the start of the "Holiday Season" for many, I thought it would be fun to share some of my recipes that are great alternatives to the typical Turkey/Ham entree with traditional sweet potato/green bean/mashed potato sides. These recipes would be great for mid-season get togethers and for breaking up the monotony of plain ole turkey and ham.
source: Dan @ The Food in my Beard
Clam Pumpkin Soup with an Ancho Floater
. This amazing soup would be perfect for a low key get together on a cold evening. It's unique flavors make it just fancy enough for it to be more than just soup for dinner.
source: Marina @ Yummy Mummy Kitchen
Brussels Sprout Mac n Cheese
. I love Brussels Sprouts and I love Mac n Cheese. Naturally this is a dish right up my alley. Not only would it make a great side, it can be made in bulk and served as a main dish.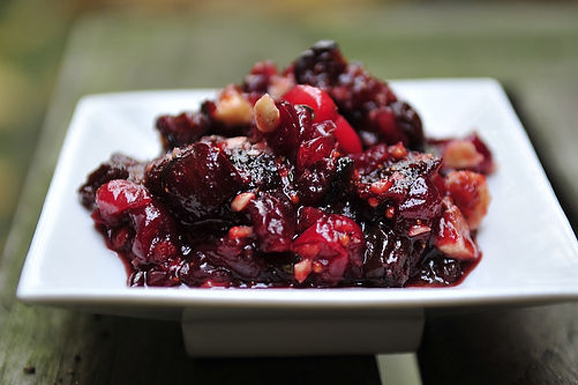 source: Oui, Chef @ Food52
Gingered Cranberry Fig Chutney
. Cranberries are a staple this time of year. Instead of relying on the canned jelly from the supermarket, try something a little more unique!
source: Cat Cora via The New Potato
source: Beth @ Budget Bytes
Cranberry Almond Cake
. I don't know about you but Apple and Pumpkin pies can get quite boring. This cake seems like a great way to finish off any meal, especially one during the holidays.