Despite my little rant yesterday, I do actually love fall! In fact, it is my favorite season of all and part of the reason I love living in Flagstaff. California goes from summer right on to winter. Flagstaff has a glorious autumn! The sky is bright blue, and the leaves are gorgeous shades of yellow, orange and brown. It is still warm enough during the days, that many of the leaves are still green too.
The change in weather has sparked some new project ideas. The most recent is an Albert Camus Autumn Plaque. It is 3X5 inches with a decoratively cut border. The edges are a metallic chocolate brown and the face is plum purple. The quote was decoupaged onto the front. I finished the whole thing with silk leaves and a suede lace hanger. I am in the process of listing the item on Artfire and doing an in depth listing on the
Nine14 Design blog.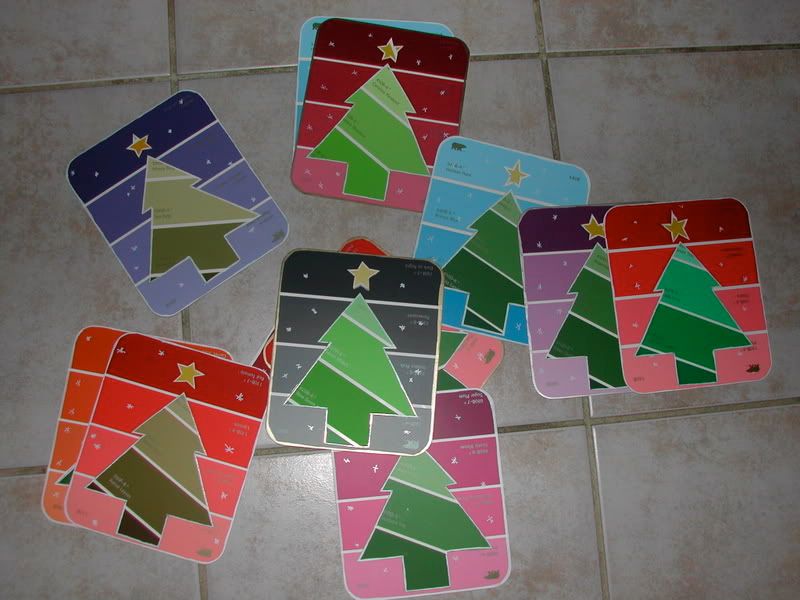 As I mentioned before, I am starting to consider our Christmas cards for this year. I am toying with idea of using paint samples to cut out a design. The cutout and background will be put on cardstock. An example is to the left. I do not know if I will be using a bunch of different colors for backgrounds, or just sticking to normal colors. I don't know if I entirely like the red backgrounds. I may even add little stick figures of us on the front. Or some kind of do-dads on the front to look like decorations on the tree.

I am also hoping to get some autumn cooking in. My close friend posted a recipe for a pumpkin loaf that I REALLY want to try. Add in some other experimental things, and new recipes for Thanksgiving, and the blog should be a-buzz again with recipes and crafting type stuff for fall.